Myst in Retrospect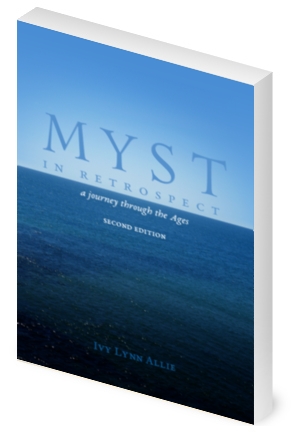 Newly revised and expanded for the 30th anniversary of the series in 2023, Myst in Retrospect is a collection of essays exploring the groundbreaking adventure game series. Covering the good and the bad, the sublime and the bizarre, it's a journey that's familiar yet new, part nostalgic ramble, part retrospective.
These essays began as a series of posts on my blog that ran from 2012 through 2013. The first print edition was published in 2016. The new 2023 edition features original illustrations for every chapter, a new essay about the history of Myst re-makes (including Myst in VR), and additional material throughout.
Essay index (2016 version)
The revised versions of the essays will be debuting online soon, but in the meantime, feel free to peruse these older versions.
Fireplace
<! -- __ __ _______ __ __ _______ __ __ _______ ______ _______ __ | | | || || | | | | || | | || || _ | | || | | |_| || ___|| |_| | |_ _|| |_| || ___|| | || | ___|| | | || |___ | | | | | || |___ | |_||_ | |___ | | | || ___||_ _| | | | || ___|| __ || ___||__| | _ || |___ | | | | | _ || |___ | | | || |___ __ |__| |__||_______| |___| |___| |__| |__||_______||___| |_||_______||__| I mean yeah, you could just reverse-engineer the source code and find the solution that way, but where's the fun in that? Go back to the book (print or PDF version) and look for a clue that will guide you to the solution. You don't wanna be a cheater do you? ;) -->